Interested to Study Abroad?
Find course OR university by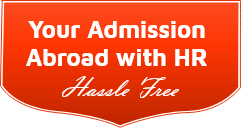 In 25 years, HR officially trained consultants have helped many students join their dream university. Our advisors can assist you to complete your application to study Foundation, Undergraduate, Postgraduate, PhD/Research or MBA course in the UK, USA, Australia, Canada, Malaysia & more.
Since 1993 HR Consultants have placed over 30,000 students at most renowned universities around the world. Our consultants will make it happen for you.